Discover our Personal Favorites - Best Golf Courses in and around Calgary, Canada
Calgary is a popular destination for golfers, with a range of beautiful courses to choose from. Whether you are a seasoned pro or a beginner, there's a golf course in Calgary that's perfect for you. Here are some OUR favorite golf courses in Calgary and the surrounding area, that you can play without breaking the bank:
1. Heritage Pointe Golf Club: This 27-hole championship course is situated just outside of Calgary and features rolling fairways, beautiful valley features, and challenging bunkers.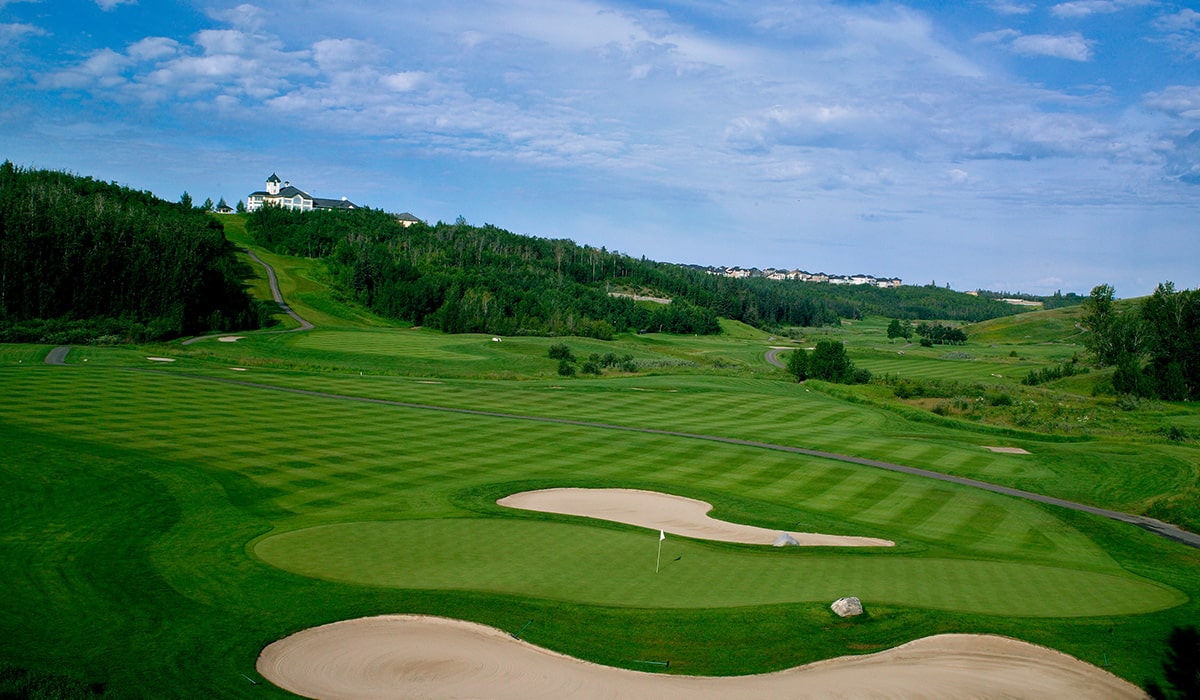 2. Sirocco Golf Club: Sirocco Golf Club is a beautiful course with stunning views of the Foothills and the Rocky Mountains. With its challenging greens and wide-open fairways, Sirocco Golf Club is a must-play course for any golf enthusiast.
3. McKenzie Meadows Golf Club: McKenzie Meadows Golf Club is a public course that offers a fun and challenging round of golf. With its well-maintained fairways and stunning views of the Bow River, this course is perfect for golfers who want a challenging yet enjoyable round
4. Darcy Ranch Golf Club: Located just a short drive from Calgary in our home town Okotoks, The course seamlessly blends with the surrounding landscape, featuring rolling fairways, strategic bunkering, and well-manicured greens. Golfers can expect a mix of open and tree-lined holes that offer a variety of shot options, ensuring an exciting and enjoyable round every time they tee it up.
5. Highwood Golf Club: Highwood Golf Club in High River is a hidden gem that offers a peaceful and enjoyable golfing experience. Situated amidst the scenic beauty of High River, this 18-hole course provides a welcome retreat for golfers of all skill levels. With its well-maintained fairways, challenging greens, and picturesque views, Highwood Golf Club stands out as a premier destination for both locals and visitors seeking a memorable round of golf.
6. The Winston: Nestled in the heart of Calgary, The Winston Golf Club is a hidden gem that offers a memorable golfing experience for players of all skill levels. With its picturesque setting, challenging course layout, and exceptional amenities, The Winston Golf Club stands out as a premier destination for golf enthusiasts in Calgary.
No two golf courses are the same.. Hell no two rounds are the same, even if they're at the same course. Golf courses are all unique and all offer golfers unique experiences. Each course's design, natural surroundings, conditions, how many beers you drink, how well you are striking the ball, will all determine your overall experience on the golf course. Exploring different courses allows golfers to embrace new challenges, appreciate diverse landscapes, and create cherished memories with your golfing pals on the fairways. 
Never Lay up
---